Reviews for EMBERS…
"One of the most promising debut novels I've read in a great while… I'd highly recommend this book to anybody who reads fantasy. It reminds me in many regards…of another exceptional first novel…Emma Bull's seminal War for the Oaks, and there's not much higher praise that I can give."
—Elizabeth Bear on Tor.com
"Bickle has something great in Anya. Embers has everything: demons, ghosts, dragons, love, sex, police, and murder."
—M.L.N. Hanover, bestselling author of Darker Angels

"Gritty but never grim, Embers is a truly urban fantasy, where the soul of a city haunts every page. I can't wait for more of Anya and the unforgettable Sparky!"
—Jeri Smith-Ready, award-winning author of Bad to the Bone and Shade
Bickle's dark, dramatic urban fantasy debut introduces Lt. Anya Kalinczyk of the Detroit Fire Department, who investigates arson by day and huntsghosts at night. As a unique type of medium, a Lantern or "human bug zapper," Anya can simply inhale and destroy spirits while accompanied by her familiar, a … salamander named Sparky…Though she's a far cry from the usual hip, cheeky urban fantasy heroine, Anya's stoic determination is completely apropos for a crime-solving loner. Bickle provides plenty of suspense as the arsonist tries to raise a powerful elemental being, and Anya accidentally absorbs a demon that threatens to possess her. Readers will look forward to Anya's future supernatural investigations.
Locus:
"This very promising first novel is a solid fantasy mystery with a strong protagonist and an effective contemporary setting in a decaying Detroit."—Carolyn Cushman, Locus Magazine
With a lovable narrator who fights daily with good and evil, Bickle delivers a fun new addition to fantasy reading. She packs her novel with an overall sense of doom, peppered with side stories and relationships that make this a fast, entertaining read. Hardly a dull moment! (4 Stars)
4.75 / 5 - Reviewer Top Pick
Anya is a character that I have never encountered before and I was excited to see where this story would take me. The thing that I liked about Anya was that she had her own demons to fight while trying to help solve the arsons. She blames herself for her mother's death and that she devours spirits as part of being a Lantern. She has no idea why she is the way that she is, but accepts it and tries to provide some good in the world by devouring bad spirits. I loved Sparky, her fire elemental guardian, who is a wonderful addition to the story and I'm curious to learn of his background since Anya herself doesn't know how he came to be. This novel had me hooked from the very beginning and I can't wait to read "Sparks" which just came out a little while ago.
Urban fantasy fans will relish this superb entry of a kick butt female who takes both her day and night jobs seriously. Anya knows fire investigation and paranormal inquires are dangerous and acts accordingly. The fast-paced story line follows her exploits on the mean streets of Detroit and its even meaner underground. Sub-genre fans will wonder which Lantern will prevail with Sirrush from beyond.
Embers has something for most fans of urban and dark fantasy. It is an entertaining ride and Anya is a strong character. Readers will quickly find themselves gritting their teeth as Anya is presented with more obstacles, hoping she will have her final victory. Bickle weaves in a large cast of characters, while creating an investigative feel to the story. The book is researched, creative and well written. If you like this type of fantasy, consider grabbing a copy.
Ms. Bickle pens a dynamite urban fantasy debut complete with fascinating characters, a great action filled plot, set in a very atmospheric, eerie and dark Detroit. Her characters are rich and captivating, fitting nicely into the backdrop of Detroit's gritty and deadly supernatural scene. The plot is fast-paced and the magic is thoroughly integrated into the story, making Embers a real page-turner.
What sets this novel apart from the plethora of "tough as nails" female leads is the great work Ms. Bickle does with characterization. Embers' protagonist, Anya, is a hero, but the nature of her work means Anya also has a dark side. Anya is one of the most multi-dimensional characters in the urban fantasy genre. She's powerful, and tears through the spiritual underworld of Detroit, but it takes a personal toll on her. It was tough to see Anya struggle with isolation and her feelings of being torn between the spirit world and our world…
Anya has an amazing familiar, a five-foot fire salamander named Sparky. What's not to love about Sparky? He has many endearing attributes. He's quirky, loyal and needy to a fault, but he's also Anya's protector. He loves her very much and has a hard time sharing her. Sparky doesn't speak and can only be seen by Anya and ghosts, but nonetheless his presence is felt. Sparky is the one constant in Anya's life and he annoys her as much as he comforts her. It's actually quite touching.
Overall, Embers is an impressive debut. Think Ghost Hunters meets Supernatural and that's just a fraction of the good times you will get out of reading this book. Ms. Bickle delivers great storytelling, compelling characters, and top-notch worldbuilding. Embers is well written with a fresh and unique mythology. Danger, demons and Devil's Night abound, making this book hard to put down. I'm really looking forward to visiting this gritty and dark world again in the sequel, Sparks.
Embers is the debut novel from author Laura Bickle. Right from the beginning I knew that this book was going to be a winner. I was right. My thoughts about this book never wavered. If anything, my excitement grew. I can't wait to get my hands on a copy of the next book, Sparks. Sparky [a salamander] is the best familiar any psychic could ever own. The way Sparky would act made me laugh. Watch out Ghost Busters as there is a new sheriff in town, and her name is Anya. She is sharp, sassy, and can kick some serious spirit soul. Laura Bickle is an author to keep an eye on as she is going far. Embers proves it. (Five Angels)
[Five Fangs]
Embers is a hot debut novel for Laura Bickle.
Embers is the first book of a sizzling new series that is sure to leave you smoldering for more of Anya and Sparky….
Embers is the epitome of urban fantasy- this is what the genre is all about–a little hard and edgy, emotional, with a dash of romance thrown in–all tied together in a complex world peppered with supernatural creatures and phenomenon.
Sparky has to be the most unusual and one of the best sidekicks out there. I can honestly say I have never felt all cuddly about a salamander before but now after reading about Sparky, I am seeing them in a new light. Sparky is full of personality and pizazz which greatly adds to the story. A good sidekick can make or break a book sometimes and Sparky helped put this book in the keeper pile.
Embers is a great UF book filled with emotional turmoil, a character that is richly developed (but not complete which hopefully means we will get to see plenty of character growth in the upcoming books) and the world building is solid. The minor characters are great story supporters and I really look forward to reading more of this series.
One thing I really enjoyed about Embers other than the gritty story line and complex characters, is that the author got Detroit and the underlying turmoil that is currently running through many areas in Michigan. She addressed the depression, the emotion, the energy that runs through the areas around here. The economic crisis, the old and new butting heads while trying to blend together even though the odds are stacked against it. She also gets that Detroiters (and Michigan people in general) are tough. It was great reading a story set in practically in my own backyard.
Embers is exactly what I was hoping it would be–just a killer debut urban fantasy. I connected with the characters immediately, but almost as importantly, I connected with the setting. My favorite urban fantasy series feature a place that is as much of a character as the supes and beasties that call it home. And I absolutely loved Bickle's burning Detroit, a city on the verge of consuming itself. A city, as Anya bleakly observes, that no sane person would want to stay in, but that she can't help but hope some will. Someone with the vision to reinvest and rebuild in the future of both the city and the isolated residents who walk its dying streets. The narrative is dotted with very real glimpses into the gritty lives of everyday people on the streets. These are thrown into relief by the side-by-side depictions we get of those other everyday people who died and are lingering for whatever reason. The effect is at once thoughtful and haunting. As for Anya, she's my kind of heroine. She fights the good fight every single day, despite her doubts and uncertainty, despite her fragmented history, despite the very real ghosts that plague her. Luckily, she has one of the best sidekicks I've run across in awhile. A salamander protector–brilliant! Sparky solidifies into the torque she wears around her neck night and day, though he loves nothing more than to slither into corporeal form to chase ghosts with Anya and play with any electrical source he can find. Their relationship is sweet and funny as Sparky is the one being she's never without. I enjoyed all the secondary characters as well, particularly the refreshingly normal (though by no means boring Brian), her good friend and organic witch/baker Katie, and the dark man behind the recent reign of fire himself. This is a dark, serious, and intense read and I was especially satisfied with the resolution. This is the first in a series and yet Ms. Bickle happily resisted the temptation to leave a million and a half plot threads hanging. There are several directions the next book could take, of course, but I finished Embers satisfied and I can't thank her enough for that. A fantastic new urban fantasy and highly recommended. I can't wait for Sparks, which is due out the end of August.
Not to be trite, but Embers by Laura Bickle smolders with urban fantasy originality and suppressed emotional turmoil. With each turn of the page, Bickle sucked me deeper into the heated world of inner city Detroit and held no punches regarding a city that is on the brink of collapse. Bickle exploits everything that makes a good urban fantasy in Embers. A tragically haunted main character that is tough as nails, yet close to breaking because of emotional strain. A background urban setting that sets the tone of the novel.
An originally crafted plot that sets itself apart from all the other vampire and werewolf stories that are jostling each other for recognition. A simmering romance that isn't the main focus, but is touched on just enough to build tension. I was highly impressed with Bickle's debut and was very excited to read this book, I'm glad it lived up to the hype –and was chosen as a [Blog With Bite] adult selection….
A superb example of the Urban Fantasy genre, Embers is an easy and entertaining adult read. Prime for fans of the UF genre and a great starter for those that would love to jump into this genre. If you can't tell, I really liked this one…
RECOMMENDATIONS: Urban fantasy lovers and starters, go for it, a great read. It is an adult selection. There are some hot scenes, but nothing graphically explicit.
Plot: 5 Stars
The arson aspect of the plot was amazing and interesting to read about…My favorite part was how Anya had to balance the two aspects of her life — being a fire investigator and a lantern — in a world where few knew about the paranormal.
Pace: 5 Stars
There was never a dull moment. A couple times, I took a break from reading and was like, Whoa! I read that much?…
Characters: 5 Stars
I absolutely loved Sparky, Anya's salamander familiar… Anya was a very likeable heroine. I enjoyed learning both about her powers as a Lantern and her job as an arson investigator. I also found the members of DAGR to be a good group of people, and I hope to see more of them (especially Brian and Katie) in the sequel.
Cover: 5 Stars
The orange colors …make you think you're holding a book that is on fire…

Overall: 5 Stars
Embers is a hot debut novel for Laura Bickle.Originally I had no intention of reading Embers. I'm a little burned out from Urban Fantasies, at least starting new series, and had resolved to take a break. Best laid plans and such found me buying Embers and then reading it in relatively quick order.
The tone of the novel was much darker than I expected, exploring several deeper emotions such as lust, guilt and personal responsibility in slightly uncomfortable ways (for me at least). Anya is a conflicted young woman with deeply rooted guilt issues and a problem with forming personal connections, not particularly uncommon in today's UF heroines, but Bickle takes it a step forward with Anya's growing fear that one unwary step will burn her life down. Uncertain about the exact nature of her power as a Lantern (spirits are attracted to her like a moth to flame and she has the power to devour them, burning them to nothingness), Anya fights her nature. Meeting the firebug with an oddly do-gooder mentality, confirms her worst fears, but also opens her up to exploring who and what she could be.
The cast surrounding Anya, both supernatural and otherwise, all have distinct personalities. Sparky, her 'hellbender' elemental protectors; Brian, tech geek who cares for her; Katie, organic baker by day, witch by night; Ciro, demonologist and one tough old man; Jules, group leader and fond of slapping Mike upside the head; Mike, the newbie on the crew with a whole lot of enthusiasm and then Captain Marsh, her boss at the Fire department. The firebug, who becomes more important for a variety of reasons as the story goes on, was oddly appealing….
Book 2, Sparks, is due out at the end of August though there isn't a whole lot out about what it will be about and the end of Embers gives nothing away to give us clues. I am however looking forward to it and have great anticipation for Laura Bickle's alter-ego, Alayna Williams's debut UF Dark Oracle due out in June!
Embers takes the reader on a fast-paced, page-turning adventure, as Anya, Sparky, and DAGR race to save Detroit–and Anya herself–from demons and ancient gods. Bickle has written a fantastically believable world that a reader can get lost in. Embers, is hands down, bar none, the best Urban Fantasy written by a debut author, hell, written by anyone, that I have read in a very long time. I look forward to reading more about Anya and Sparky and the mishmash of others that complete DAGR in Bickle's next release Sparks.
Bickle evokes the decay and aura of sadness surrounding Detroit, yet also infuses her depiction with an air of hope, personified by the character of Anya who never gives up. Feeling guilt over a childhood action that impacts the rest of her life, coupled with her unusual ability, Anya has difficulty forming strong attachments to others. Even though she does not understand why she has the talent or what it means, Anya believes she knows her place within DAGR, "Her role was inescapable: to bat clean-up, to be the garbage disposal for lost souls". In spite of recognizing the necessity of her actions, Anya never really feels comfortable performing this duty, which leads to self-doubt and an increased sense of isolation.
The author magically transforms the unseen creatures and spirits into beings easily perceived and envisioned by the reader, skillfully juxtaposing the characters who can and those who cannot see Sparky and the ghosts. With vivid characterization, stark imagery, and true suspense keeping the reader guessing until the end, this outstanding novel hits all the right notes. Urban fantasy fans will welcome this new addition to the genre…(5 stars/tombstones)
Finally, I was both surprised and jubilant with the ending. Many books, especially within the Urban Fantasy genre, conjure a lot of build up between the protagonists and antagonists only to have a lackluster finish. This is not the case with EMBERS. Not only are you shocked but you're left, not with a cliffhanger, but rather on the precipice of Anya's jumping off point into the abilities she's yet to unleash from within herself. Trust me, you'll want to read it twice.

For a unique and thrilling Urban Fantasy experience with a strong heroine and hilarious but lovable sidekick, EMBERS is for you.
Capital Area District Library (Lansing, MI):
This is a surprisingly original urban fantasy introducing Anya Kalinczyk a Detroit arson investigator whose evening job, working with a group of ghost hunters, is starting to invade her work for the Detroit Fire Department. Her latest case is a string of fires that feature only one connection—a mysterious symbol on the floor of each building. Suspecting a supernatural connection she finds herself enlisting her team and the ghosts of Detroit to help. Part mystery and part demon-summoning horror this has an interesting take on Detroit, a fascinating mythology, characters I want to know more about, and a scene stealing elemental salamander named Sparky. I'm looking forward to the sequel Sparks, due out in late Aug 2010. Fans of Kat Richardson ( Greywalker), Patricia Briggs ( Moon Called), and Rob Thurman (Trick of the Light) should check this out.
"Anna Kalinczyk [is] a down to earth person, who just happens to be a Lantern, a rare kind of psychic medium. But she's completely cool -- she's not unearthly beautiful, impossibly smart, and just too amazing to be real; she's a real person who just happens to be a Lantern. I really appreciated that Laura Bickle wrote Anna to be this way; she's not too perfect, and that's what makes her a great character. Bickle also created a really interesting story here, where there is a real-life setting, completely with some real-life situations, mixed in with the magical. There's just enough of both elements to make the story gritty and intriguing, and somehow, pretty believable...All in all, a good read."
In her debut novel, Laura Bickle introduces us to Anya Kalinczyk, a woman as troubled as her home city of Detroit…Bickle incorporates mythology in a really interesting way, mostly Babylonian but with a nifty tie-in to a famous Native American monument. I don't quite "buy" what happens with the villain at the end, but for the most part, this strand of the plot is great. Together with the wonderful character of Sparky, the investigation makes Embers a compelling read… Embers is worth reading…I will definitely be checking out the next book in this series, Sparks.
…WOW!! I was beyond impressed and am totally hooked on this series now…. I am obviously no expert in how fire and arson investigators work, on how a fire progresses, or on elementals, but I was completely impressed with how knowledgable this author came across in her descriptions. That it was believable was my overall impression after reading Embers.
I loved the Devil's Night in Detroit setting, it reminded me of how much I enjoyed a similar setting in the original Crow movie starring Brandon Lee. Anya's familiar, Sparky, is a loveable scamp who I'm looking forward to reading about again! The Ghost Hunter crew is a great group made up of richly detailed eccentric and charismatic individuals. And last, but not least, we come to Anya… she's a wonderfully written character who's a whirlwind of strength, vulnerability, unique, conflicted, loyal and brave.
I have three words for this book… I WANT MORE! (Five Fangs)
The characters were intriguing, the storyline felt fresh and fast paced and there were some twists in the story even I was shocked to read and had me flipping the pages to see what would happen next….EMBERS is a wonderfully fast paced story that draws you in and keeps you enthralled till the very end. I read this book within a matter of hours and wanted to know more when the last page was read. Ms. Bickle is one author I am going to have to check out in the future. I can not wait for more Anya stories in the future. I just hope Ms. Bickle doesn't keep us waiting too long for her next installment. EMBERS is a sheer joyride from start to finish. Run-don't walk-to grab this newest debut from an author that will leave you breathless. (4 Hearts)
This was an interesting new sort of paranormal. Anya works as an arson investigator for the fire department and learns that a series of fires are being started magically by someone who wants to raise a dragon-sort of demon to cleanse the city of Detroit by burning it up and sacrificing the inhabitants. Anya works with her elemental Sparky and a number of her fellow paranormal investigator colleagues to capture the man trying to raise the demon…My favorite parts of the book were those showing her relationship with Sparky. He is a combination pet and protector. Only Anya, ghosts, and cats and dogs can see him…I recommend this book to lovers of the paranormal who want to read about interesting characters and a new paranormal talent.
Embers is a unique and assured debut from Laura Bickle, capturing the heart and soul of its setting, Detroit, and giving us a fascinating protagonist in Anya. Not to mention an adorable sidekick in the form of Sparky, Anya's salamander familiar. A strong supporting cast helps create a sense of community and friendship in the novel - as much as Anya tries to shut herself away, there's always someone there to bring her out of her self-imposed exile. And that's one of the nice things about this novel: Anya isn't afraid to admit when she needs help, nor does she hesitate to ask for it. That's a trait you don't see much in urban fantasy, where the emphasis is often on the lone-gunman type character. It was refreshing to see a protagonist who's aware of her strengths and limitations, and plays to them accordingly….I'd recommend this book unreservedly to anyone - not just genre fans, but anyone who loves a well-crafted novel. I hope there are plenty more adventures for Anya and Sparky in the future!
Bookaholics Romance Book Club:
Bickle's first book is a fun, fun, fun read! For once, we don't have a super angsty, tough GI Jane. Well, Anya is tough, but not so tough like Xena. She's likeable and we can relate to her. Even though she comes with a lot of baggage, she's very normal still. Well, as normal as a person can be with a pet elemental. Her relationship with Sparky brings a smile to my face. Sparky, unlike other pets or familiars, aren't snarky and/or talkative. He's more like a dog that no one can see. Bickle was able to weave so much personality into a non-talking character. Every time I think of Sparky and his favorite toy, I can't help but smile.
Of course, the rest of the motley crew are equally interesting. From Katie the witch to the main bad guy, everyone has so much potential. I hope Bickle can expand further on the adventures of DAGR. They all seem complement each other. Of course, it is also a relief to finally read a book without the same old plot of a tough chick who falls in love with a vampire. I think mediums and ghosts are far more interesting…and spooky. The ghosts in Bickle's novels are all quirky and fully fleshed out. They are all interesting and none of them are flat. I find it impressive that Bickle can juggle so many characters and still move the plot in a fast, enjoyable pace. Bickle is a talented writer and even though I normally don't read paranormal love stories, I can't wait for her second book.

EMBERS is a strong debut; well written and peopled by diverse and intriguing characters. Anya is a tortured soul—in more ways than one—and often her own worst enemy. As a reader, you sympathize with her friends' frustration as she pushes away those who would help her, insisting on doing everything by herself. But once you learn her history, it becomes clear that Anya is damaged; and this story is as much about her own redemption as it is about her fight to keep her beloved city safe.
The unexpected beauty of the fiery entity, the playful malignance of the demon that inhabits Anya, and the flashes of humanity demonstrated by her enemy all enrich this book. My only complaint (and it is a small one) is that Bickle occasionally displays some of the writing flaws of a beginning autho… But overall, this is a winner, and I look forward to reading Anya's further adventures. And her familiar Sparky is one of my new favorite paranormal creatures.
Embers is…unique, not your typical run of the mill urban fantasy….[Anya's] relationship with her familiar Sparky is really wonderful and made me smile. I especially enjoyed Anya friendship with the baker/witch Katie who is a therapist of sort to Anya and gives her advice and a shoulder to lean on.
The first part of Embers is really wonderful with a great deal of action and suspense…The arsonist is revealed early on and isn't the hard-core villain everyone makes him out to be. He has been wronged and feels he has no other choice with his decisions. Anya has a very touchy relationship with him that's written in a very interesting way…
As debuts go, I would say Embers is a pretty solid read and the start of a series that I wouldn't mind continue reading. Other then too much of an emphasis on the annoying Linda Blair Exorcist type drama, I would say that Laura Bickle is one to pay attention to, especially if you are looking for a new unique Urban Fantasy series to read.

I really liked this story. It's well written, has a great and suspenseful storyline and has one of the coolest familiars I've come across (the demon duck in 'A Nameless Witch' by A. Lee Martinez is even cooler, but that story isn't as good as this one.) I must confess at this point I pictured Sparky (the familiar) as a small Komodo Dragon, which is one of my favourite animals.
romance storyline, it's well worth the read.

Why should you read it:
Because it has Sparky, the cool familiar!
And because it's a very well written and engaging Urban Fantasy.
This story had everything. Romance, a touch of horror, fantasy, myth. There wasn't a dull moment throughout the book. I think though, what I loved most about the story is that the characters were unpredictable. Just when I thought I had them figured out, they would do something surprising.

Laura is a skilled and imaginative storyteller, and her love of the craft shines through in Embers. The story was written with special care, and there is nothing ordinary about it.

If you want something wonderful and original, pick up Embers. Laura Bickle is the real deal.
EMBERS is Fresh Fiction's Pick of the Week:
"The Fresh Pick is chosen by a group of readers and is never a purchased advertisement or promotion. We've chosen your book because it appeals to us and we like to share our diverse tastes in reading and hope other readers will give it a try."
<![if !word & !ppt & !excel & !vml]>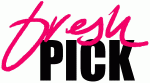 <![endif]>


I agree - Anya is both a unique and kick-ass heroine. I cannot wait for more of her and the band of ghost hunters she reluctantly tags along with. One of the best Urban Fantasy heroines to come around in a long time, I felt Laura did an amazing job of making Anya something new in the Urban Fantasy world, but that she also made her incredibly real and honest.

Anya's feelings fill every page and carry you along her journey - I felt connected to her and that's totally a credit to how great Laura's writing and characterizations are. Likewise, the rest of the cast of characters are just screaming for more play time - including Anya's familiar salamander Sparky.

I cannot wait for the next book in the series, Sparks, to release so I can see what happens to Anya next and how she develops. I think once I've read the next book, I'll be able to say if I think Laura has created something I would put on par with Kim Harrison and Karen Marie Moning in terms of my love of the world-building.

I highly recommend this book if you love real Urban Fantasies. Do yourself a favor and check it out - it's not a light-hearted book, but a fantastic read.

A serial arsonist is targeting what seem to be random buildings in the city. Anya discovers that the crimes are ritualistic in nature, and that the perp is planning a grand finale on Devil's Night, just two weeks away. This plotline is exceedingly well done. The investigation scenes are fascinating. The arsonist harbors utopian dreams of urban renewal, and while his methods are despicable, his motives are more complex than is usual in a villain. Bickle incorporates mythology in a really interesting way, mostly Babylonian but with a nifty tie-in to a famous Native American monument. I don't quite "buy" what happens with the villain at the end, but for the most part, this strand of the plot is great. Together with the wonderful character of Sparky, the investigation makes Embers a compelling read.

This well-crafted, highly descriptive tale feels fresh for readers burned out on vampires and other typical paranormal creatures. Anya's familiar, Sparky, is adorable, and the characterization feels spot-on, from the impish to the menacing.

Embers, is a gritty read. It's full of darkness and despair. Detroit is falling apart, and so is Anya's life. Honestly, Ember's is one of the darkest reads I've read in awhile. However, just because it was a dark read, didn't mean that there weren't parts where I laughed. Sparky, Anya's elemental familiar, was super cute and was a very good mood lightener.

Finding out who was setting the fires was fairly easy, at least for me. However figuring out why it was being done was a good mystery. Anya not only had to solve that problem, but also figure out how to move her life out of the rut it was in. They say that fire clears away to make room for growth, and for Anya that's exactly what it did.

Embers includes everything you could wish for in an Urban Fantasy book. A compelling story that picks up its pace from page to page until it culminates in a surprising and sizzling finale ...and not your typical vampire and werewolf cast, but something else entirely.

Laura Bickle´s captivating debut makes you laugh with Sparky, sympathize for Anya, cheer for your favourite love interest and bite your nails at the very end.

4.5 of 5 Points from me.

As Anya pursues her arsonist through the city of Detroit, she discovers more and more about the entity that has Ferrar setting fires. In the end, it will take a Lantern to stop the whole city from burning. And Anya has the job. Even if it means sacrificing her soul.

The concept of this novel really appealed to me. EMBERS delves beyond magic or psychic ability. Anya is very enmeshed with her talent, even when she does her normal job as an arson investigator. In fact, I feel that she is drawn to fire, and all of its curiosities and mysteries, perhaps because of her talent. My Rating: 12/15 Highly Recommend

This was a fun read and entertaining, a good example of the Urban Fantasy genre. There is an upcoming sequel to this called Sparks, and I look forward to seeing what Ms. Bickle has in store for her characters.

I really liked this book and am excited to read more from this author. I want to read more about how being a lantern affects Anya and I want to read more about the other investigators that Anya works with...her "Scooby Doo" team that another reviewer dubbed it :) And I want more of Sparky (Anya's familiar). All in all, I just want more which is always a good thing!

Embers is on fire in the smoking supernatural world of urban fantasy. Sparking to life as new author Laura Bickle's debut novel, this hot, gritty, paranormal mystery brings originality to a genre that covets expanding creativity in the paranormal and supernatural realms. For those who enjoy reads like Demon Inside by Stacia Kane, Matters of the Blood by Maria Lima or Deadtown by Nancy Holzner, Embers is right in league with this diverse selection of comparables. (4 stars)

Embers is one of the absolute best urban fantasies that I've read. Having spent most of my youth in Detroit, one of the first things that struck me was the author's knowledge of the city and its surroundings. Ms Bickle has done a phenomenal job of capturing the feel of the Detroit urban area.

But setting alone does not a story make. Ms Bickle has written a book that captures the loneliness and near despair of a woman who wants a more normal life. Unfortunately, her talent as a Lantern and her familiar, Sparky, makes that nearly impossible. However, Anya isn't a 'poor me' sort of character. She honestly loves Sparky who, I admit, is a fascinating and lovable creature who reminds me of a cross between a big doofus dog and a quirky, independent feline. The plot is fresh and masterfully intertwined with the setting. I will remind readers of Star-Crossed Romance that Embers is not a typical romance with the plot actually depending on the romantic elements. However, the romantic elements do play a fundamentally important role for characterization and, to a lesser extent, to the plot.

I highly recommend Embers for anyone who enjoys urban fantasy or paranormal stories.

Dano Buzz—Top 5 List of Best Debut SF Books:

Embers by Laura Bickle
This urban fantasy takes place in downtrodden Detroit where phantoms and dark forces spread negativity among the population…Readers of dark urban fantasy will find this has every fascinating supernatural element of the genre combined with a fine crafted literary work.

An original urban fantasy with gutsy, hard-hitting characters that fans of crime fiction and thrillers will love….

You can smell, feel and hear the musty, metallic, clawing pulse of Detroit in Embers. That buildings are being burned down in the midst of this decline makes you wonder whether it's just best to let it all burn down – and simply start again….

Laura Bickle has created a world and characters that are accessible for readers of other genres, in particular, action thrillers and crime fiction. Embers is essentially a crime thriller with paranormal on the side….

In all, I was expecting a low quality, clichéd, forgettable read. Instead, I was gobsmacked by how good this book was. I could not put it down. I thoroughly enjoyed Embers (apart from Sparky), and recommend it to my crime and thriller-loving friends. Before I'd even finished Embers, I'd downloaded the new release follow up, Sparks, onto my Kindle.

This book has it all: action, mystery, romance, tragedy—all wrapped up in an urban fantasy package with a meaningful plot twist. Characterization is deep and powerful. But as hot as Anya is (in more ways than one), I have to admit that Sparky's little antics stole the show. He's one of the most independent, headstrong, and entertaining sidekicks I've ever read.

All-in-all, Embers is a well written tale.

REVIEWS FOR DARK ORACLE:

"Alayna Williams  writes with power and poetry, combining old mythos with complete ass-kicker. You don't want to miss this series."

-National bestselling author Ann Aguirre

"DARK ORACLE is a scientific, paranormal read that takes readers on a wild chase. A subtle romance lends to the entertainment this read offers. Tara is a strong female who has many stories till waiting to be told. An interesting new series that is not quite like anything else! (4 stars)"

-RT Book Reviews

Dark Oracle is a novel filled with exquisite descriptions and rich detail that put you right in the middle of everything. While reading you feel as though you have been transported directly to the scene.

Tara Sheridan used to be a criminal profiler. She used a combination of science and her intuitive skills channeled through her Tarot card divination. Then she got too close and became a victim of the serial killer she was tracking. Left scarred and scared she quit work and pretty much quit life moving to a remote location with no one for company except her cat.

Now Tara has been asked by Delphi's Daughters, a secret and powerful group of women her mother was part of, to look into the disappearance of scientist Lowell Magnusson. She doesn't want to but can't let it go, so she heads back to her old life and ends up right in the middle of a dangerous situation.

Mystery, corruption, science, magick, even a little romance…it's all here in Dark Oracle. It is a richly detailed book full of characters you'll want more of. Totally unique.

I really loved the history and lore of the Tarot that was included, it made me pull out my old deck which I haven't touched in years.

Fab read, I look forward to more books by Alayna Williams.

4 out of 5 from Romance Junkies:

If you are looking for an urban fantasy that is jam-packed with spin-chilling mystery from start to finish, then DARK ORACLE is just the book for you. The main focal point of the plot revolved around Tarot cards – there were no werewolves, vampires or God-like beings; yet, there still was a paranormal element presence. Readers, I must warn you that DARK ORACLE is an introductory novel to author Alayna Williams' new series, and it ends on a cliffhanger note with more exciting episodes to come. There was some romance but it was told in a secondary manner. I am sure that Tara's romantic relationship with her new FBI partner will develop more in depth as the series progresses. Overall, I found DARK ORACLE to be an enjoyable sci-fi, urban fantasy read.- Romance Junkies Reviewer Contessa

The exciting Dark Oracle draws the reader in from its first page description of the remnants of a scientific site explosion, setting the scene for the events to follow… elements combine to create a thrilling cat and mouse game characterized by wonderful pacing and sustained suspense. The villains of the piece are revealed early on, but the unknown fate of the man being searched for keeps the reader guessing throughout the book. Williams excels at depicting a world of both shadowy magic and dark science, and her skillful characterization of both primary and secondary players adds breadth to the narrative. An unusual and atypical backdrop for the story sets this novel apart from the herd in the urban fantasy field, earning the author extra points. This reviewer fears that the sequel to this excellent and intriguing novel will be much too long in arriving. (Five stars)

Tarot, quantum physics, mines, botany, geology, divination, serial killers…if any of these interest you, purchasing Dark Oracle would be wise. A mix of The X-Files and Alex Kava's Maggie O'Dell series, this novel has enlivened urban fantasy with a smack of science that grounds the story with realism. Plus, there are definite wow moments – the climax features a character who truly is one with the earth, in jaw-dropping imagery. Unfortunately, the sequel, Rogue Oracle, won't be released until March. Too bloody long away…

I've been wanting to read this book since the first time I heard about it as it sounded really cool. And it is! I love this book.

The mix of tarot and profiling is very well written and Williams sure knows her tarot too I can tell you. The story is suspenseful and compelling with rich and vivid descriptions and even though Williams uses various viewpoints this didn't distract me from the story as sometimes happens, but instead it felt right as it gave me extra insight in the story that made it come even more alive.


Tara is a character you can really care about and I was happy to see her grow throughout the story. Voodoo Bride wants me to add she loves the romantic storyline in this book and I have to agree with her that it really fits within the overall story. All in all I hope there'll be many more books in this series as I want to know what's next for Tara.

Why should you read it:
Anyone with an interest in tarot will love this book as well as anyone who likes a decent Urban Fantasy story that doesn't focus on creatures, but more on personal magic powers.

**** FOUR STARS! The author has done an exceptional job of explaining the complex Tarot methods in easy to understand ways. Even though I know only a little about Tarot cards, I had absolutely no trouble understanding everything. However, due to each card's multiple meanings, in addition to the meaning of each card's placement within a pattern, the divination scenes are very long winded. Necessary, I understand, but still tedious. The characters' developments are well done, the plot is solid, and I felt an underlining tension throughout the entire story. These made the pages seem to fly by for me. I stayed awake much longer than I should have, but Tara's mysterious background kept me enthralled. I wanted to know more - now, now, now! Other than having to read slowly during the long divinations, I found this story to be fantastic.

Alayna Williams creates a compelling heroine in clever, intuitive Tara. Harry is a likable character, too, and their relationship — conflicts and all — is touching and realistic. Williams also peoples her novel with memorable secondary characters, from the scientist's daughter Cassie to Harry's awesome mentor to the Pythia, head of the Daughters of Delphi. (Not to even mention the dog and cat.) The plot is suspenseful, the descriptions vivid and often just plain gorgeous, and all the elements add up to a perfect escapist read for summer. I found it impossible to put down; I'm usually reading three or four books at once, but this was the book for several days running.

Tara is a fantastic urban fantasy heroine. She is flawed and has her fears, but as the novel progresses, the reader really gets to see her grow and slowly strip away her fears. They're still there, but she realizes that she can continue to live her life with them instead of holing up in the woods. I really enjoyed that she was self-conscious of her scars, but not to the point that it completely got in the way of more intimate situations. Harry was a nice foil to Tara. He tried to understand both her past and her divination, and I think he was really good for her. Cassie, Magnusson's daughter, was very strong considering the situation she found herself in. Maggie, Cassie's dog, offered a chuckle here and there within the action.

DARK ORACLE is a unique book to read and one that will leave you breathless as you try to see what happens next amid all the twists and turns within the pages. Ms. Williams delivers a stunning debut and one that will haunt you after the last page is read. If you enjoy a new sort of urban fantasy to enjoy, then grab DARK ORACLE. I am looking forward to more from this "new to me" author in the future.

…Alayna Williams introduces us to a world where the occult meet science and anything is possible.

Dark Oracle is a fast-paced. action-packed, character driven story that got me gripping at the edge of my seat from start to finish. Evil plots meet scientific experiments and the supernatural in a great adventure.

Even though I love my Shifters and will always be a Vamp fan girl, It's great to encounter an Urban Fantasy novel / series that stray from that beaten path and gives something new to read about. Alayna Williams has definitely accomplished that in spades and I recommend Dark Oracle to any Urban Fantasy lover out there. (4 stars)

I thoroughly enjoyed DARK ORACLE. While it initially seemed to be the second in a series, Tara's back-story is slowly revealed and the novel is self-contained. Tara is a fully realized character, and her inner growth as well as the way her relationship develops with Harry has an emotional depth that is completely believable. The mix of science and special abilities is a different combination from other urban fantasies. I know little about the Tarot, but the author (AKA Laura Bickle) treated Tara's readings with a delicate touch, letting the reader understand why Tara interpreted the cards the way she did, as well as giving enough of a description of the illustrations that the reader could come to their own conclusions. I highly recommend DARK ORACLE, and hope to see more of Tara's readings in the future.

A stunning collaboration of science and fantasy, DARK ORACLE is an unusual high stakes ride of government cover ups and mythological magic. While one would expect the blend to be jarring, its actually quite seamless making the novel interesting from beginning to end.

Embodying a rich epic feel, Tara and Harry traverse dozens of obstacles not only in search of the truth but also within their own inner obstacles allowing vast and blatant character growth. However, with the secondary love plot playing such a dynamic role in Tara's healing, I would have liked to have seen more chemistry, more sexual tension. It would have pushed this book from good to stellar. But the research is still phenomenal in both the science and magical aspects.

DARK ORACLE has all the makings of a good series start. For Urban Fantasy readers wanting to jump on an up and coming thrill ride, hail a ticket fast and get ready to hang on!

…Williams does a good job of keeping this urban fantasy moving along at a rapid clip. Tara and Li have an interesting chemistry, which adds a positive element to the story. With enough twists and turns to keep you guessing and enough action to keep the pages turning, Dark Oracle doesn't disappoint.

…Alayna Williams introduces us to a world where the occult meet science and anything is possible.

Dark Oracle is a fast-paced. action-packed, character driven story that got me gripping at the edge of my seat from start to finish. Evil plots meet scientific experiments and the supernatural in a great adventure.

Even though I love my Shifters and will always be a Vamp fan girl, It's great to encounter an Urban Fantasy novel / series that stray from that beaten path and gives something new to read about. Alayna Williams has definitely accomplished that in spades and I recommend Dark Oracle to any Urban Fantasy lover out there. (4 stars)

…Williams does a good job of keeping this urban fantasy moving along at a rapid clip. Tara and Li have an interesting chemistry, which adds a positive element to the story. With enough twists and turns to keep you guessing and enough action to keep the pages turning, Dark Oracle doesn't disappoint.

Dark Oracle is a mystery novel by new author Alayna Williams. When I received the book from Alayna, I was excited to dive into a story whose main character was a tarot reader, even if in the back of my mind, I expected the storyline to pale in comparison to the tarot bits I was looking forward to. I was delighted to find that the entire story captured my attention and held it. It kept me on my toes, turning pages, wanting to find out what happened next. I thoroughly enjoyed this book, start to finish. It contained action, mystery, mysticism, drama, romance and Tarot (as well as other divination methods)…When I finished the book, I wanted more. I wanted to know what was next for the characters. So I was very happy to hear Alayna's answer to my question of whether there would be sequels: "DARK ORACLE is intended to be the first in a series. The sequel, ROGUE ORACLE, is coming out in March 2011…"

…I've been delighted to find it's a great read. The two threads woven through out of the intuitive arts (Tarot, for example) and hard science (quantum theory, I believe it is) I found especially enjoyable… As a Tarot reader, writer, teacher, and designer I can support her views on The Tarot…However, this book is above all a highly entertaining and intriguing mystery about a scientist who disappears while working on new technology that has possibly terrifying potential. I was intrigued and curious, concerned and delighted, start to finish. I was quite honestly briefly sad when this terrific ride was over!… But I'll again emphasize that "Dark Oracle" is most of all an excellent mystery book. I've had the thought that in the future this old lady will be able to say "Oh yes, I read her first book and even back then it was quite obvious that she is a skilled imaginative writer."

Highly recommended read whether you are left brain dominant or a Tarot fan, or neither.

I started reading this book with some trepidation, I have always associated the use of Tarot cards with the use of dark or evil powers. Williams' use of the cards to assist in the investigation was well done and has changed my opinion regarding the use of tarot cards. The novel was an intriguing read as the story followed both the mystery of the missing scientist and the path of Tara as she came to terms with what happened to her. I found the main character sympathetic without being weak, always a difficult balance to be achieved by an author.

(4 stars)

Reviews for SPARKS…

RT Book Reviews:

The second book in Bickle's series about Anya Kalinczyk is just as wonderful as the first—Anya is a compelling and likable protagonist and Bickle does an outstanding job in her portrayal of the city of Detroit; there are ruins, yes, but also hope in the ashes. Anya never takes herself too seriously and there is a scene in a baby supercenter that is absolutely not to be missed. (4 stars)

The urban fantasy genre has a wonderful new heroine in Anya Kalinczyk.

Laura Bickle's urban fantasy world is complete and unique. In a genre drowning under the weight of vampires, witches and werewolves Bickle's character Anya, a Lantern, is something different and refreshing. And the fire elemental Sparky the salamander- brilliant. The two of them together make a wonderful team that I really enjoy reading about….

Sparks is even better than the first book Embers. The interaction between characters is much more detailed and fleshed out, Anya's character is also fuller and richer and I loved the introduction of a new character Charon the ghostly connection between this world and the underworld. I really hope to see more of him in upcoming books….Sparks was a fantastic fiery read that I couldn't put down until it was finished. If each book in this series just keeps getting better I can't wait to read the next installment.

If you are looking for something out of the ordinary in the urban fantasy genre- this series is one to try. Not a vampire in sight, no werewolves either but you'll get lots of ghosts and elementals and Lantern or two.

Just as its predecessor in the series did, the marvelous Sparks hooks the reader from its very first page and refuses to let go…As before, Bickle creates a fully-realized world believable and fantastic at the same time. The city of Detroit once again provides a fascinating backdrop for the battle between the very visible and the unseen forces at work in the story. Almost a character in its own right, the deteriorating city fights for its survival just as Anya does. The author's tactile imagery used to depict the ghosts and Sparky, hidden from the view of most humans, enables the reader to see and experience what Anya does and places them in the action.

As suspenseful and exciting as the story is with its rich setting and intriguing plot, the psychological examination of Anya adds even more depth to the narrative. Watching Anya learn to open herself to the possibility of close relationships proves emotional for the reader, as well. Anya chooses a career related to the most traumatic event of her life, the death of her mother for which she still feels responsible, but she still seeks to understand her metaphysical purpose as a Lantern.

Bickle's deft hand with humor ensures that the serious subject matter does not overwhelm the tone, preventing too much darkness from hijacking this fabulous tale. An unforgettable scene in the fine arts museum manages to be both amusing and sinister at the same time. This excellent series remains a must-read for all urban fantasy fans.

The second book in Bickle's series about Anya Kalinczyk is just as wonderful as the first—Anya is a compelling and likable protagonist and Bickle does an outstanding job in her portrayal of the city of Detroit; there are ruins, yes, but also hope in the ashes. Anya never takes herself too seriously and there is a scene in a baby supercenter that is absolutely not to be missed. (4 stars)

The terrific second Kalinczyk urban fantasy is a great saga that works mostly because of the portrait of Detroit as a city with many ruins, but trying to recreate a new image. The heroine is fabulous as she keeps her wits and sense of humor in the midst of infernos (some created by unnatural arsons) while battling psychopathic and avarice arsonists and supernatural malevolent essences; in this preying on impoverish forlorn seeking miracles.

When I reviewed the first book I talked about Sparky, Anya's elemental familiar. I really enjoyed him and that feeling still existed in "Sparks."…As I neared the end of the book you couldn't pry it from my hands. Add to that my love for the way Bickle contrasted people's appearance in the spiritual world to that of reality, and you got a pleasantly dark book.

Sparks is the second book in the Anya/Sparky series. I loved the first book Embers, especially because of Anya's familiar Sparky who outshone everyone and everything in my opinion.

That being said: I absolutely love Sparks!

And this time it's quite a bit harder to name one specific thing that outshone the rest I can tell you. Sparky does shine ofcourse (both while guarding his bathtub full of newts and while wreaking havoc on an unsuspecting Baby Super Store) but Anya shines as well in a way she didn't and most probably couldn't in Embers. Where she was emotionally quite closed off in the previous book she's opening up in this one, making her vulnerable in a way that makes you want to hug her and kick some butt among those who pester her. The other characters are very intriguing as well, some raising some questions about who and what they truly are and others making you wish you had them as a friend. The one negative thing I can say is that at the moment it's not clear if there will be more books in this series. I really hope there will be because I want lots and lots more Sparky and Anya!

Why should you read it: In my honest opinion sofar this book is one of the five books you should read this year.

This series has a freshness, uniqueness about it that truly helps it stand apart from the other Urban Fantasy stories. If you are expecting the paranormal elements of vampires, were-wolves, etc, well this series is not for you.

I found it very easy to like and connect with Anya. She has her day job, nothing spectcular like a cop or bounty hunter; however there is more to Anya than what people believe. Really liked how Anya is coming to terms with her past, new light being shed for her to stew on.

Yes, we do have a very interesting character introduced. I am anticipating on seeing more of this character in future books. And of course Sparky, we can not forget about him! Laura had me giggling during the scene with Anya and salamander in a baby store. The image is imprinted there.

Near the end got incredibly sad to the point that I sniffled. It was to be expected but I really did not see it happening this soon. Despite that, the ending brought a smile to my lips and anticipating the next installment, wondering what Anya and Sparky would get into next…

Bickle does a great job of transporting the reader back and forth between the city of Detroit and the psychic planes she explores in the book. The characters are smart and funny. SPARKS is a fast paced and entertaining read.

Sparks is …full of suspense and thrilling adventure…Laura Bickle's Anya comes to life in this twisting tale, both in and out of the physical world, fighting with strength that will last forever, even if she does not. In my opinion, Sparks was a spectacular young adult novel. This book will capture a wide audience of teen readers, because of its great sense of adventure and terrible but great suspense. To me, this book has no equal and would make a moving series; I think Laura Bickle should consider this. 10/10

Ex Libris Spotlight on Urban Fantasy:

Some of the best urban fantasy series…(along with Women of the Otherworld series by Kelley Armstrong and Kate Daniels series by Ilona Andrews) Laura Bickle's evocative descriptions are extraordinary and the UF universe she built is very original (the heroine is no vampire, werewolf, fairy or angel, no she is a "lantern"). Anya's universe is darker than the usual and maybe because of that, the athmosphere is more intense and deeper. An amazing journey, and you just have to meet Sparky!

I'm constantly amazed at the detail Ms Bickle incorporates into her books but more than that I'm delighted with the growth and depth of the characters. These are not static people who've been pigeon-holed into specific roles. Some of the personality twists are just as surprising as the plot twists but they're logical enough that the reader will nod and say yes, I know a guy just like that.

All in all, Sparks is a grab-you-by-the-neck attention getter that you won't want to put down. If you enjoy urban fantasy, you want to get Sparks. I highly recommend it.

Fang-tastic Fiction: Twenty-First-Century Paranormal Reads (ALA Editions, December 2010)

Bickle provides a fine sense of place as she describes the failing city of Detroit.

Laura Bickle has definitely upped the ante with her sequel to Embers. Anya and Sparky are back in Sparks, with more ghosts, more creepies, and more bang for your buck...a competent writer who has realized her vision with this series, plunged head first to write an exciting and visually stunning sequel. Bravo!

<![if !vml]>